#1 Financial Benefit of Homeownership: Family Wealth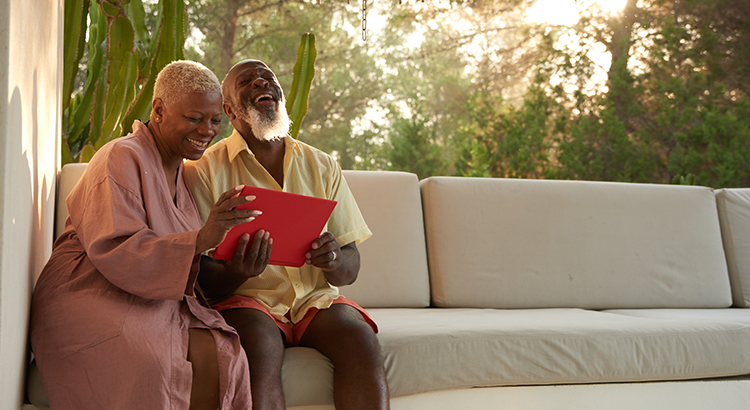 https://files.mykcm.com/2020/05/15073215/20200518-KCM-Share-600x328.jpg 600w,
https://files.mykcm.com/2020/05/15073215/20200518-KCM-Share-100x55.jpg
100w" sizes="(max-width: 750px) 100vw, 750px">
While growing up, we were taught by our parents and grandparents that owning a home is a financially savvy move. They explained how a mortgage is like a "forced savings plan." When you pay rent, that money is lost forever. When you make a mortgage payment, much of that money accumulates as equity in the home. So, what exactly is equity?
The equity in your home is the amount of money you can sell it for minus what you still owe on the mortgage. Every month you make a mortgage payment, and every month a portion of what you pay reduces the amount you owe. That reduction of your mortgage every month increases your equity.
A recent study by CoreLogic explained that homeowners gained substantial equity over the last twelve months, and are essentially sitting on large sums of cash in their homes. In the study, Frank Nothaft, Chief Economist for CoreLogic explained:
"The CoreLogic Home Price Index recorded a quickening of home price gains during the fourth quarter of 2019, helping to boost home equity wealth. The average family with a mortgage had a $7,300 gain in home equity during the past year, and a total of $177,000 in home equity wealth."
For most families, their home is their largest financial asset. This increase in equity drives the net worth, or family wealth, of the homeowner. Renters are not earning that benefit. Instead, they're building the net worth of their landlord.
Bottom Line
Home price growth will moderate during the pandemic. But once a cure is available, most experts agree that home values will again begin to appreciate at levels similar to what we've seen over the last several years. In the long run, our family elders will be proven correct: owning a home is a savvy financial move.






Why Home Equity Is a Bright Spark in the Housing Market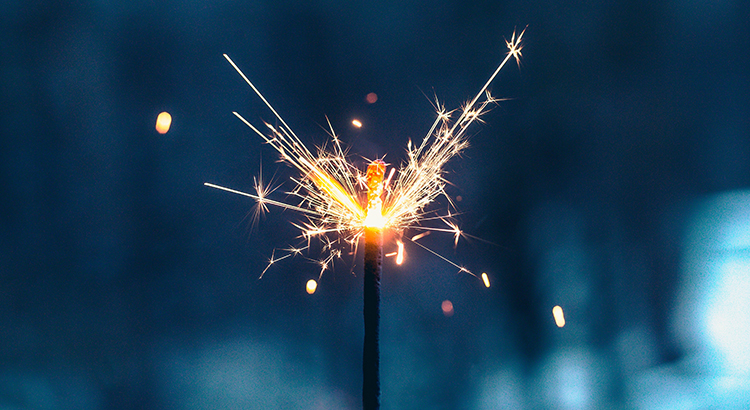 https://files.mykcm.com/2020/05/05120129/20200506-KCM-Shar-600x328.jpg
600w,
https://files.mykcm.com/2020/05/05120129/20200506-KCM-Shar-100x55.jpg
100w" sizes="(max-width: 750px) 100vw, 750px">
Given how we have seen more unemployment claims than ever before over the past several weeks, fear is spreading widely. Some good news, however, shows that more than 4 million initial unemployment filers have likely already found a new job, especially as industries such as health care, food and grocery stores, retail, delivery, and more increase their employment opportunities. Breaking down what unemployment means for homeownership, and understanding the significant equity Americans hold today, are important parts of seeing the picture clearly when sorting through this uncertainty.
One of the biggest questions right now is whether this historic unemployment rate will initiate a new surge of foreclosures in the market. It's a very real fear. Despite the staggering number of claims, there are actually many reasons why we won't see a significant number of foreclosures like we did during the housing crash twelve years ago. The amount of equity homeowners have today is a leading differentiator in the current market.
Today, according to John Burns Consulting, 58.7% of homes in the U.S. have at least 60% equity. That number is drastically different than it was in 2008 when the housing bubble burst. The last recession was painful, and when prices dipped, many found themselves owing more on their mortgage than what their homes were worth. Homeowners simply walked away at that point. Now, 42.1% of all homes in this country are mortgage-free, meaning they're owned free and clear. Those homes are not at risk for foreclosure (see graph below):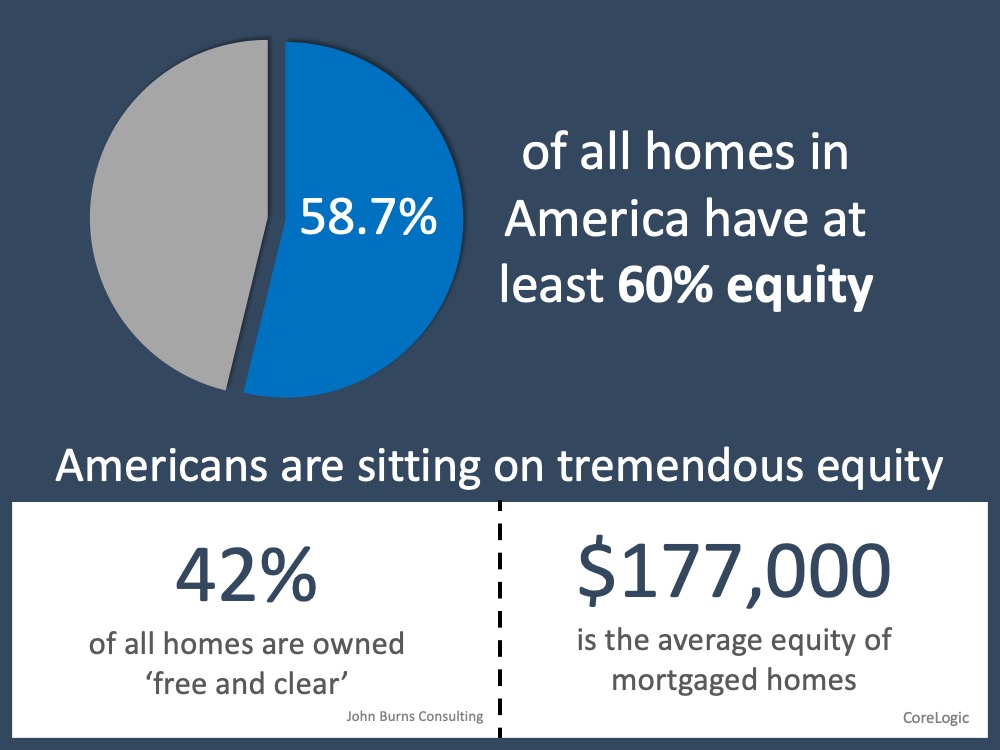 In addition, CoreLogic notes the average equity mortgaged homes have today is $177,000. That's a significant amount that homeowners won't be stepping away from, even in today's economy (see chart below):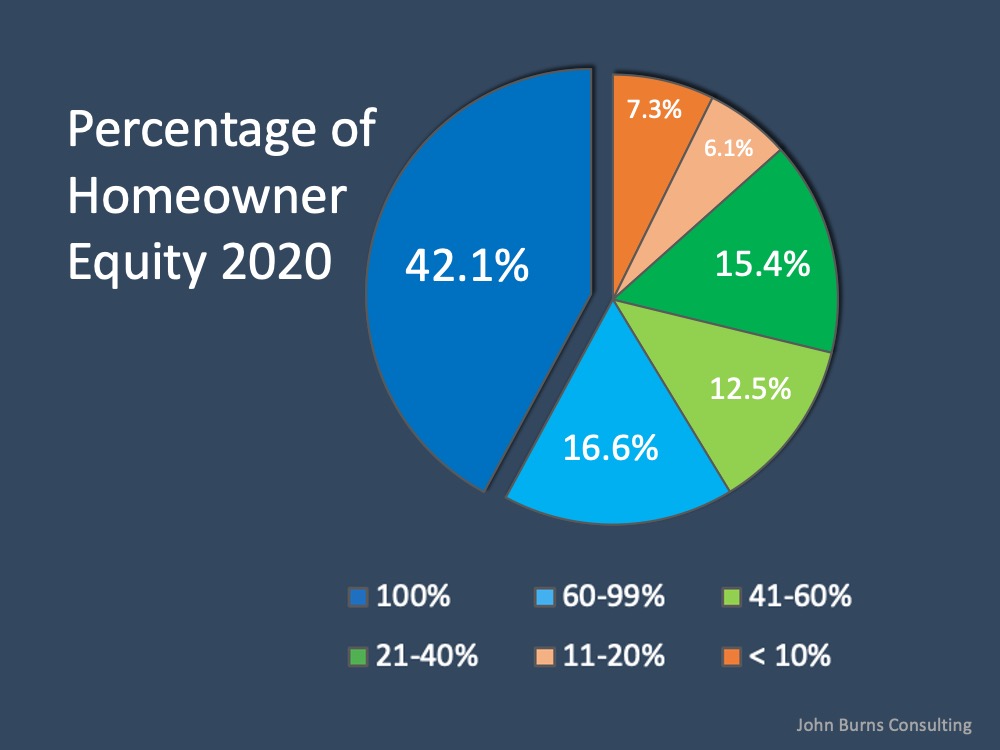 In essence, the amount of equity homeowners have today positions them to be in a much better place than they were in 2008.
Bottom Line 
The fear and uncertainty we feel right now are very real, and this is not going to be easy. We can, however, see strength in our current market through homeowner equity that has not been there in the past. That may be a bright spark to help us make it through.


Here are the April 2020 statistics for the Huntsville-Madison area - Madison and Limestone counties. Properties are still coming to market  (new listings), properties are going under contract quickly (pending sales), and buyers and sellers closing their transactions is occurring without interruption (sold properties). Hover over the line graphs with your cursor to check out all the metric values and see that Real Estate is still STRONG in North Alabama!!


Keys to Selling Your House Virtually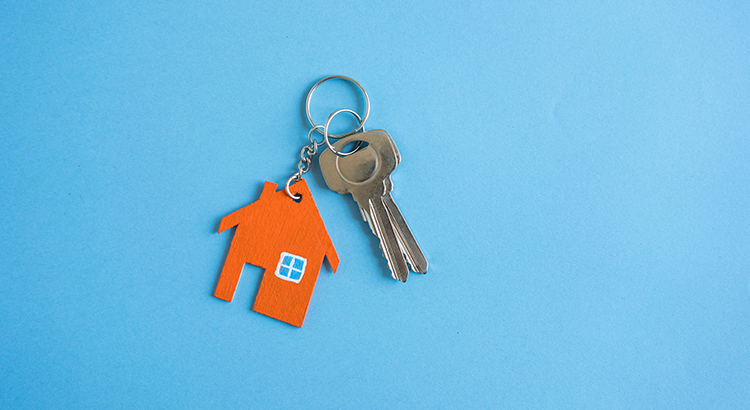 https://files.mykcm.com/2020/04/21115740/20200422-KCM-Share-600x328.jpg
600w,
https://files.mykcm.com/2020/04/21115740/20200422-KCM-Share-100x55.jpg
100w" sizes="(max-width: 750px) 100vw, 750px">
In a recent survey by realtor.com, people thinking about selling their homes indicated they're generally willing to allow their agent and some potential buyers inside if done under the right conditions. They're less comfortable, however, hosting an open house. This is understandable, given the health concerns associated with social contact these days. The question is, if you need to sell your house now, what virtual practices should you use to make sure you, your family, and potential buyers stay safe in the process?
In today's rapidly changing market, it's more important than ever to make sure you have a digital game plan and an effective online marketing strategy when selling your house. One of the ways your agent can help with this is to make sure your listing photos and virtual tours stand out from the crowd, truly giving buyers a detailed and thorough view of your home.
So, if you're ready to move forward, virtual practices may help you win big when you're ready to sell. While abiding by state and local regulations is a top priority, a real estate agent can help make your sale happen. Agents know exactly what today's buyers need, and how to put the necessary digital steps in place. For example, according to the same survey, when asked to select what technology would be most helpful when deciding on a new home, here's what today's homebuyers said, in order of preference:
Virtual tour of the home
Accurate and detailed listing information
Detailed neighborhood information
High-quality listing photos
Agent-led video chat
After leveraging technology, if you have serious buyers who still want to see your house in person, keep in mind that according to the National Association of Realtors (NAR), there are ways to proceed safely. Here are a few of the guidelines, understanding that the top priority should always be to obey state and local restrictions first:
Limit in-person activity
Require guests to wash their hands or use an alcohol-based sanitizer
Remove shoes or cover with booties
Follow CDC guidance on social distancing and wearing face coverings
Getting comfortable with your agent – a true trusted advisor – taking these steps under the new safety standards might be your best plan. This is especially important if you're in a position where you need to sell your house sooner rather than later.
Nate Johnson, CMO at realtor.com ® notes:
"As real estate agents and consumers seek out ways to safely complete these transactions, we believe that technology will become an even more imperative part of how we search for, buy and sell homes moving forward."
It sounds like some of these new practices might be here to stay.
Bottom Line
In a new era of life, things are shifting quickly, and virtual strategies for sellers may be a great option. Opening your doors up to digital approaches may be game-changing when it comes to selling your house. Let's connect so you have a trusted real estate professional to help you safely and effectively navigate through all that's new when it comes to making your next move.
Will Surging Unemployment Crush Home Sales?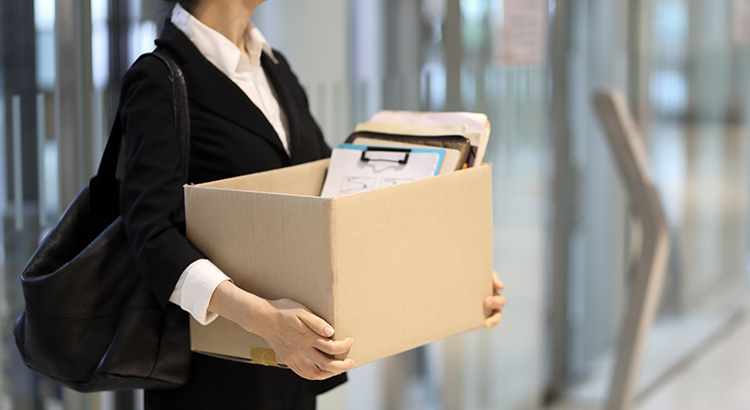 https://files.mykcm.com/2020/04/05100417/20200406-KCM-Share-600x328.jpg
600w,
https://files.mykcm.com/2020/04/05100417/20200406-KCM-Share-100x55.jpg
100w" sizes="(max-width: 750px) 100vw, 750px">
Ten million Americans lost their jobs over the last two weeks. The next announced unemployment rate on May 8th is expected to be in the double digits. Because the health crisis brought the economy to a screeching halt, many are feeling a personal financial crisis. James Bullard, President of the Federal Reserve Bank of St. Louis, explained that the government is trying to find ways to assist those who have lost their jobs and the companies which were forced to close (think: your neighborhood restaurant). In a recent interview he said:
"This is a planned, organized partial shutdown of the U.S. economy in the second quarter. The overall goal is to keep everyone, households and businesses, whole."
That's promising, but we're still uncertain as to when the recently unemployed will be able to return to work.
Another concern: how badly will the U.S. economy be damaged if people can't buy homes?
A new concern is whether the high number of unemployed Americans will cause the residential real estate market to crash, putting a greater strain on the economy and leading to even more job losses. The housing industry is a major piece of the overall economy in this country.
Chris Herbert, Managing Director of the Joint Center for Housing Studies of Harvard University, in a post titled Responding to the Covid-19 Pandemic, addressed the toll this crisis will have on our nation, explaining:
"Housing is a foundational element of every person's well-being. And with nearly a fifth of US gross domestic product rooted in housing-related expenditures, it is also critical to the well-being of our broader economy."
How has the unemployment rate affected home sales in the past?
It's logical to think there would be a direct correlation between the unemployment rate and home sales: as the unemployment rate went up, home sales would go down, and when the unemployment rate went down, home sales would go up.
However, research reviewing the last thirty years doesn't show that direct relationship, as noted in the graph below. The blue and grey bars represent home sales, while the yellow line is the unemployment rate. Take a look at numbers 1 through 4: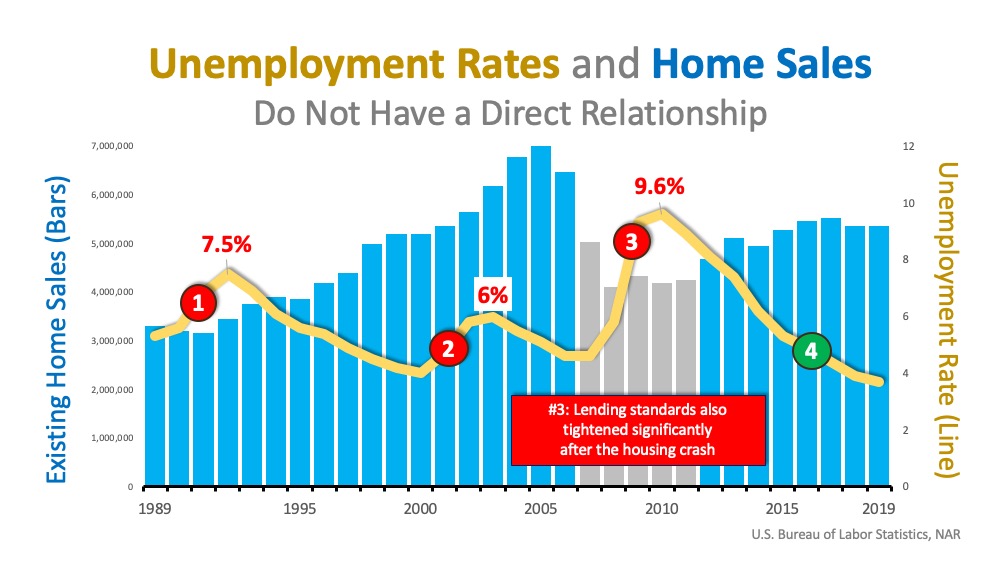 The unemployment rate was rising between 1992-1993, yet home sales increased.
The unemployment rate was rising between 2001-2003, and home sales increased.
The unemployment rate was rising between 2007-2010, and home sales significantly decreased.
The unemployment rate was falling continuously between 2015-2019, and home sales remained relatively flat.
The impact of the unemployment rate on home sales doesn't seem to be as strong as we may have thought.
Isn't this time different?
Yes. There is no doubt the country hasn't seen job losses this quickly in almost one hundred years. How bad could it get? Goldman Sachs projects the unemployment rate to be 15% in the third quarter of 2020, flattening to single digits by the fourth quarter of this year, and then just over 6% percent by the fourth quarter of 2021. Not ideal for the housing industry, but manageable.
How does this compare to the other financial crises?
Some believe this is going to be reminiscent of The Great Depression. From the standpoint of unemployment rates alone (the only thing this article addresses), it does not compare. Here are the unemployment rates during the Great Depression, the Great Recession, and the projected rates moving forward: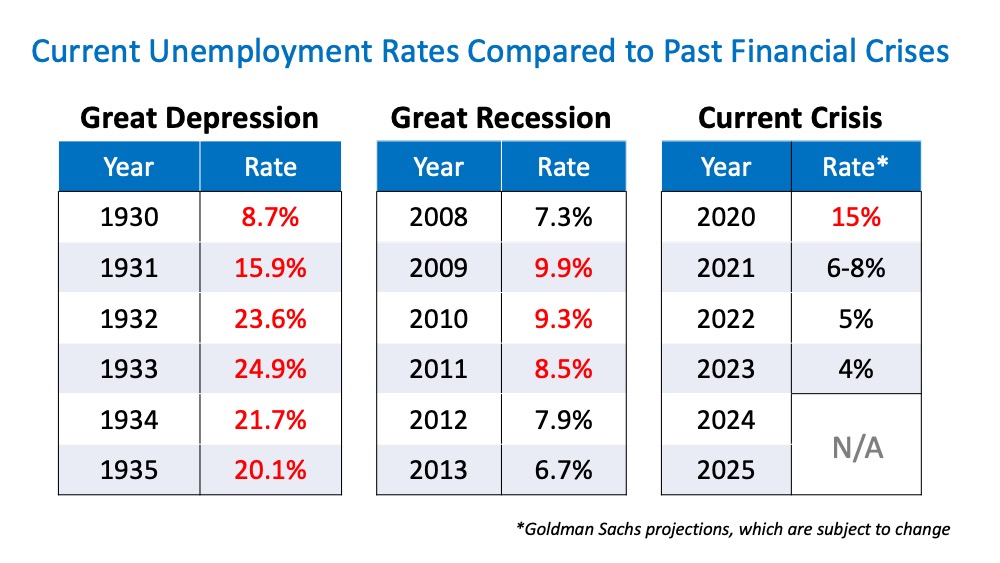 Bottom Line
We've given you the facts as we know them. The housing market will have challenges this year. However, with the help being given to those who have lost their jobs and the fact that we're looking at a quick recovery for the economy after we address the health problem, the housing industry should be fine in the long term. Stay safe.


A Recession Does Not Equal a Housing Crisis [INFOGRAPHIC]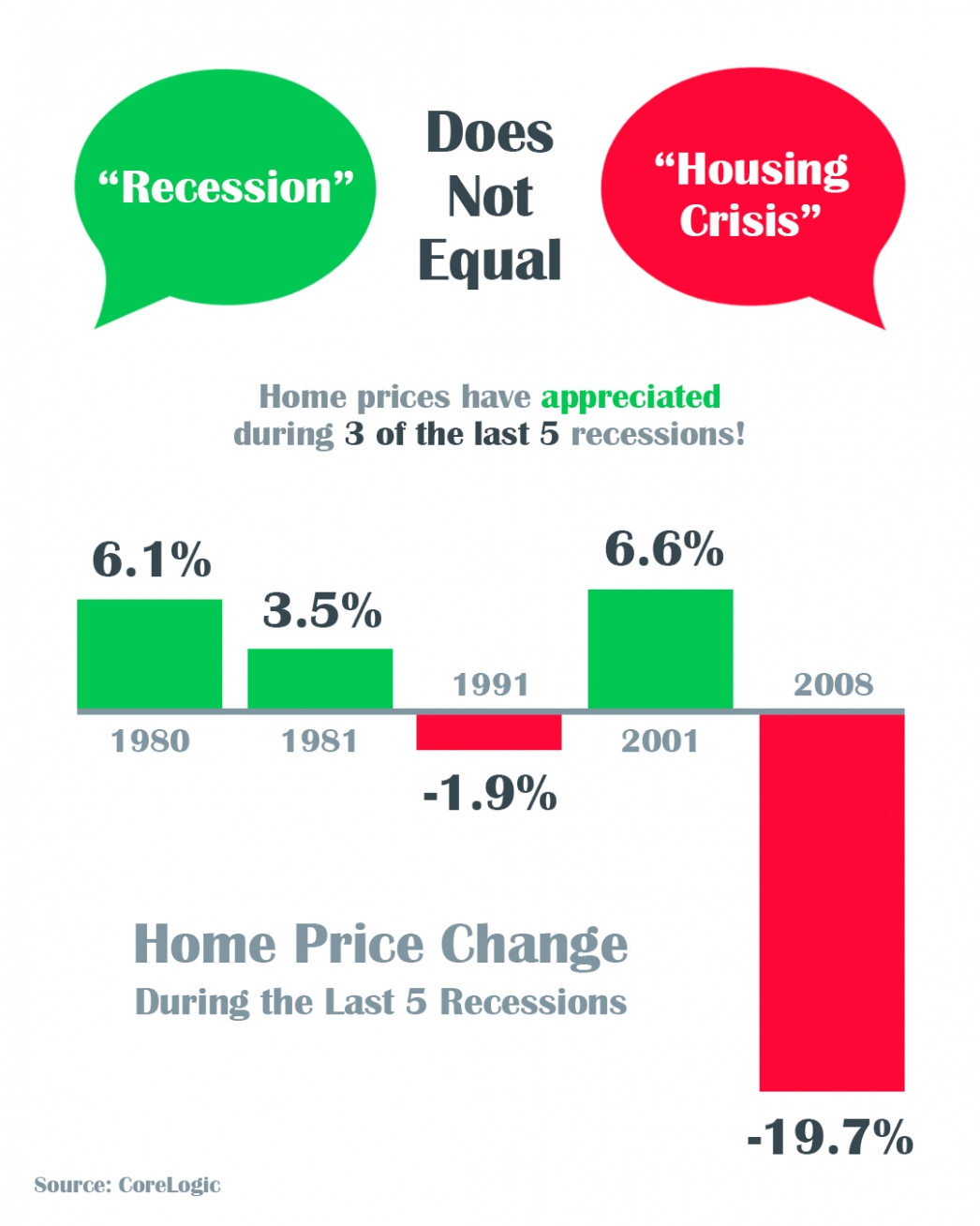 https://files.mykcm.com/2020/03/19131753/20200320-MEM-480x600.jpg
480w,
https://files.mykcm.com/2020/03/19131753/20200320-MEM-819x1024.jpg
819w,
https://files.mykcm.com/2020/03/19131753/20200320-MEM-768x960.jpg
768w,
https://files.mykcm.com/2020/03/19131753/20200320-MEM-100x125.jpg
100w,
https://files.mykcm.com/2020/03/19131753/20200320-MEM.jpg
1080w" sizes="(max-width: 1046px) 100vw, 1046px">
Some Highlights
The COVID-19 pandemic is causing an economic slowdown.
The good news is, home values actually increased in 3 of the last 5 U.S. recessions and decreased by less than 2% in the 4th.
All things considered, an economic slowdown does not equal a housing crisis, and this will not be a repeat of 2008.
Three Reasons Why This Is Not a Housing Crisis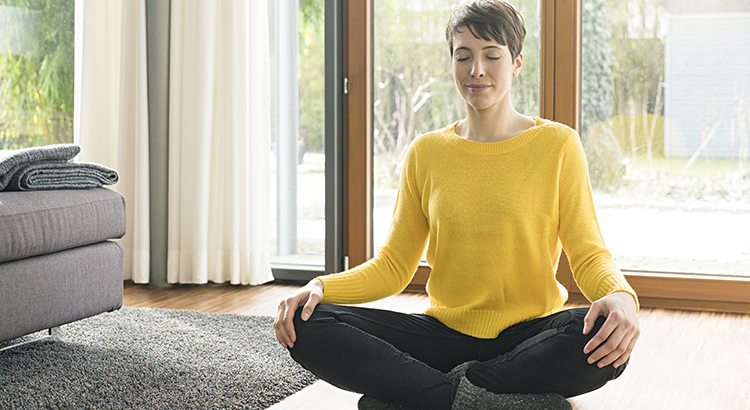 https://files.mykcm.com/2020/03/17130331/20200318-KCM-Share-600x328.jpg
600w,
https://files.mykcm.com/2020/03/17130331/20200318-KCM-Share-100x55.jpg
100w" sizes="(max-width: 750px) 100vw, 750px">
In times of uncertainty, one of the best things we can do to ease our fears is to educate ourselves with research, facts, and data. Digging into past experiences by reviewing historical trends and understanding the peaks and valleys of what's come before us is one of the many ways we can confidently evaluate any situation. With concerns of a global recession on everyone's minds today, it's important to take an objective look at what has transpired over the years and how the housing market has successfully weathered these storms.
1. The Market Today Is Vastly Different from 2008
We all remember 2008. This is not 2008. Today's market conditions are far from the time when housing was a key factor that triggered a recession. From easy-to-access mortgages to skyrocketing home price appreciation, a surplus of inventory, excessive equity-tapping, and more – we're not where we were 12 years ago. None of those factors are in play today. Rest assured, housing is not a catalyst that could spiral us back to that time or place.
According to Danielle Hale, Chief Economist at Realtor.com, if there is a recession:
"It will be different than the Great Recession. Things unraveled pretty quickly, and then the recovery was pretty slow. I would expect this to be milder. There's no dysfunction in the banking system, we don't have many households who are overleveraged with their mortgage payments and are potentially in trouble."
In addition, the Goldman Sachs GDP Forecast released this week indicates that although there is no growth anticipated immediately, gains are forecasted heading into the second half of this year and getting even stronger in early 2021.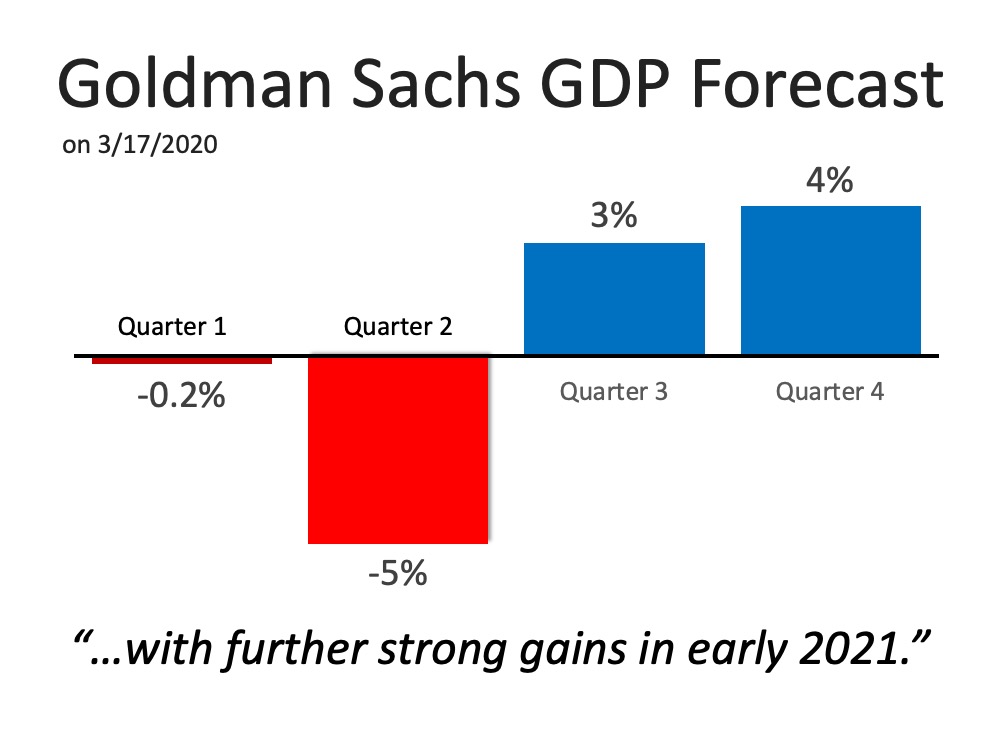 Both of these expert sources indicate this is a momentary event in time, not a collapse of the financial industry. It is a drop that will rebound quickly, a stark difference to the crash of 2008 that failed to get back to a sense of normal for almost four years. Although it poses plenty of near-term financial challenges, a potential recession this year is not a repeat of the long-term housing market crash we remember all too well.
2. A Recession Does Not Equal a Housing Crisis
Next, take a look at the past five recessions in U.S. history. Home values actually appreciated in three of them. It is true that they sank by almost 20% during the last recession, but as we've identified above, 2008 presented different circumstances. In the four previous recessions, home values depreciated only once (by less than 2%). In the other three, residential real estate values increased by 3.5%, 6.1%, and 6.6% (see below):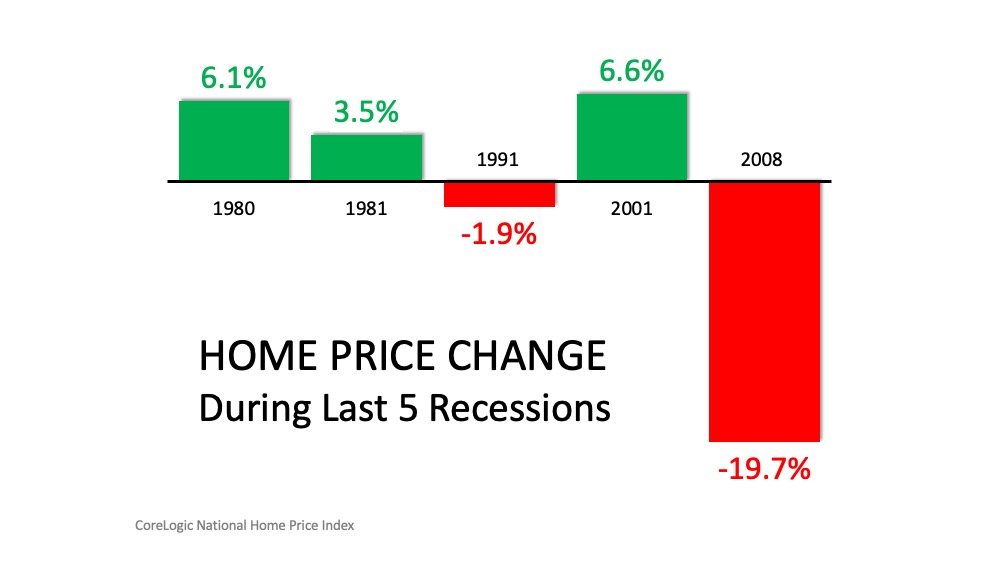 3. We Can Be Confident About What We Know
Concerns about the global impact COVID-19 will have on the economy are real. And they're scary, as the health and wellness of our friends, families, and loved ones are high on everyone's emotional radar.
According to Bloomberg,
"Several economists made clear that the extent of the economic wreckage will depend on factors such as how long the virus lasts, whether governments will loosen fiscal policy enough and can markets avoid freezing up."
That said, we can be confident that, while we don't know the exact impact the virus will have on the housing market, we do know that housing isn't the driver.
The reasons we move – marriage, children, job changes, retirement, etc. – are steadfast parts of life. As noted in a recent piece in the New York Times, "Everyone needs someplace to live." That won't change.
Bottom Line
Concerns about a recession are real, but housing isn't the driver. If you have questions about what it means for your family's homebuying or selling plans, let's connect to discuss your needs.
Real Estate Is Soaring, But Not Like 2008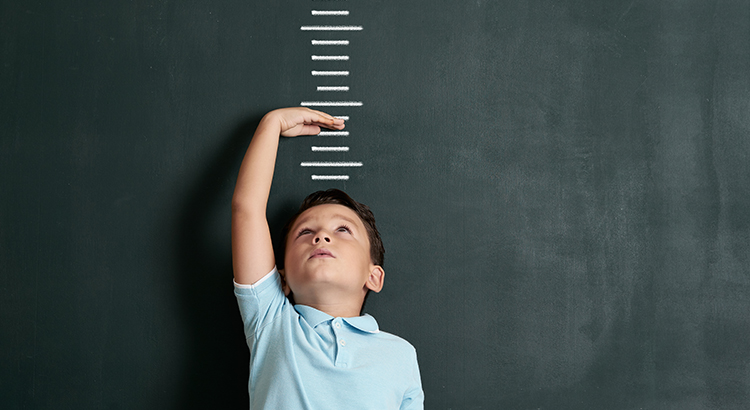 https://files.mykcm.com/2020/03/03113537/20200304-KCM-Share-600x328.jpg
600w,
https://files.mykcm.com/2020/03/03113537/20200304-KCM-Share-100x55.jpg
100w" sizes="(max-width: 750px) 100vw, 750px">
Unlike last year, the residential real estate market kicked off 2020 with a bang! In their latest Monthly Mortgage Monitor, Black Knight proclaimed:
"The housing market is heating entering 2020 and recent rate declines could continue that trend, a sharp contrast to the strong cooling that was seen at this same time last year."
Zillow revealed they're also seeing a robust beginning to the year. Jeff Tucker, Zillow Economist, said:
"Our first look at 2020 data suggests that we could see the most competitive home shopping season in years, as buyers are already competing over…homes for sale."
Buying demand is very strong. The latest Showing Index from ShowingTime reported a 20.2% year-over-year increase in purchaser traffic across the country, the sixth consecutive month of nationwide growth, and the largest increase in the history of the index.
The even better news is that buyers are not just looking. The latest Existing Home Sales Report from the National Association of Realtors (NAR) showed that closed sales increased 9.6% from a year ago.
This increase in overall activity has caused Zelman & Associates to increase their projection for home price appreciation in 2020 from 3.7% to 4.7%.
Are we headed for another housing crash like we had last decade?
Whenever price appreciation begins to accelerate, the fear of the last housing boom and bust creeps into the minds of the American population. The pain felt during the last housing crash scarred us deeply, and understandably so. The crash led us into the Great Recession of 2008.
If we take a closer look, however, we can see the current situation is nothing like it was in the last decade. As an example, let's look at price appreciation for the six years prior to the last boom (2006) and compare it to the last six years: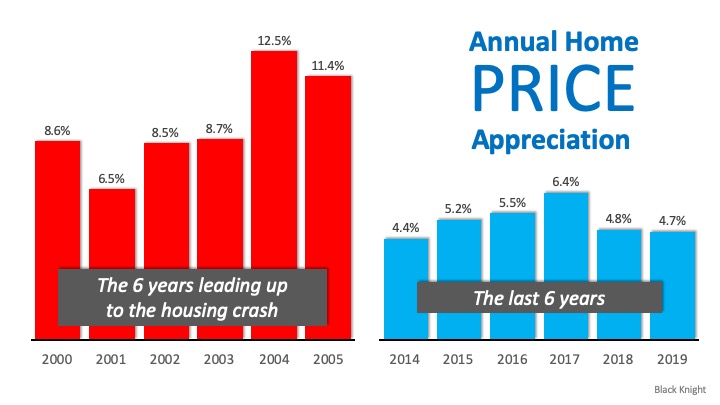 There's a stark difference between these two periods of time. Normal appreciation is 3.6%, so while current appreciation is higher than the historic norm, it's certainly not accelerating beyond control as it did leading up to the housing crash.
Today, the strength of the housing market is actually helping prevent a setback in the overall economy. In a recent post, Odeta Kushi, Deputy Chief Economist for First American explained:
"While the housing crisis is still fresh on the minds of many, and was the catalyst of the Great Recession, the U.S. housing market has weathered all other recessions since 1980. With the exception of the Great Recession, house price appreciation hardly skipped a beat and year-over-year existing-home sales growth barely declined in all the other previous recessions in the last 40 years…In 2020, we argue the housing market is more likely poised to help stave off recession than fall victim to it."
Bottom Line
The year has started off very nicely for the residential housing market. If you're thinking of buying or selling, now may be the time to get together to discuss your options.


How Your Tax Refund Can Move You Toward Homeownership This Year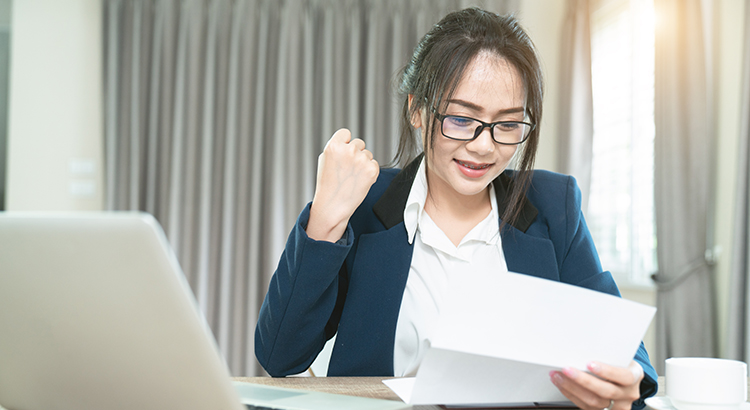 https://files.mykcm.com/2020/02/27100034/20200302-KCM-Share-600x328.jpg
600w,
https://files.mykcm.com/2020/02/27100034/20200302-KCM-Share-100x55.jpg
100w" sizes="(max-width: 750px) 100vw, 750px">
If you're looking to buy a home in 2020, have you thought about putting your tax refund toward a down payment? Homeownership may be one step closer than you think if you spend your dollars wisely this year.
Based on data released by the Internal Revenue Service (IRS), Americans can expect an estimated average refund of $2,962 when filing their taxes this year.
The map below shows the average tax refund Americans received last year by state: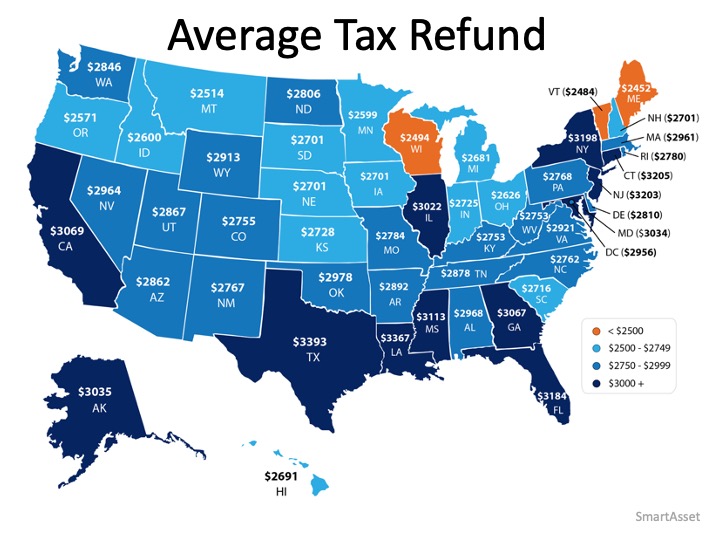 According to programs from the Federal Housing Authority, Freddie Mac, and Fannie Mae, many first-time buyers can purchase a home with as little as 3% down. Truth be told, a 20% down payment is not always required to buy a home, even though that's a common misconception about homebuying. Veterans Affairs Loans allow many veterans to purchase a home with 0% down.
How can my tax refund help?
If you're a first-time buyer, your tax refund may cover more of a down payment than you ever thought possible.
If you take into account the median home sale price by state, the map below shows the percentage of a 3% down payment that's covered by the average tax refund: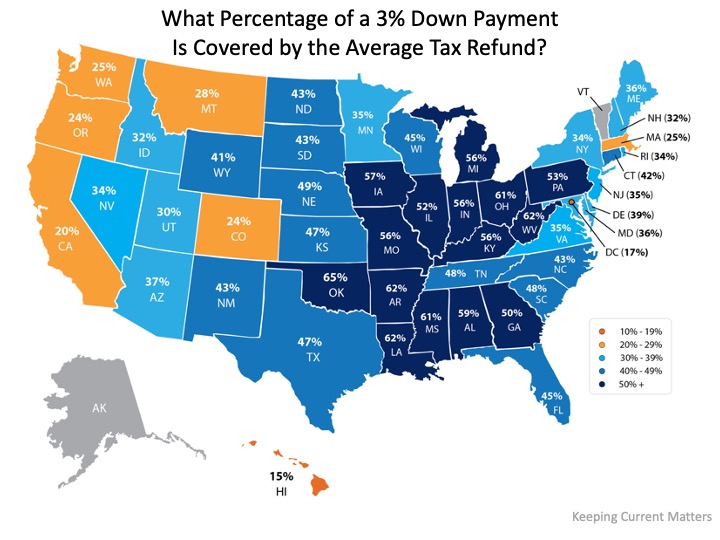 The darker the blue, the closer your tax refund gets you to homeownership in one of these programs. Maybe this is the year to plan ahead and put your tax refund toward a down payment on a home.
Bottom Line
Saving for a down payment can seem like a daunting task, but the more you know about what's required, the more prepared you'll be to make the best decision for you and your family. This tax season, your refund could be your key to homeownership.